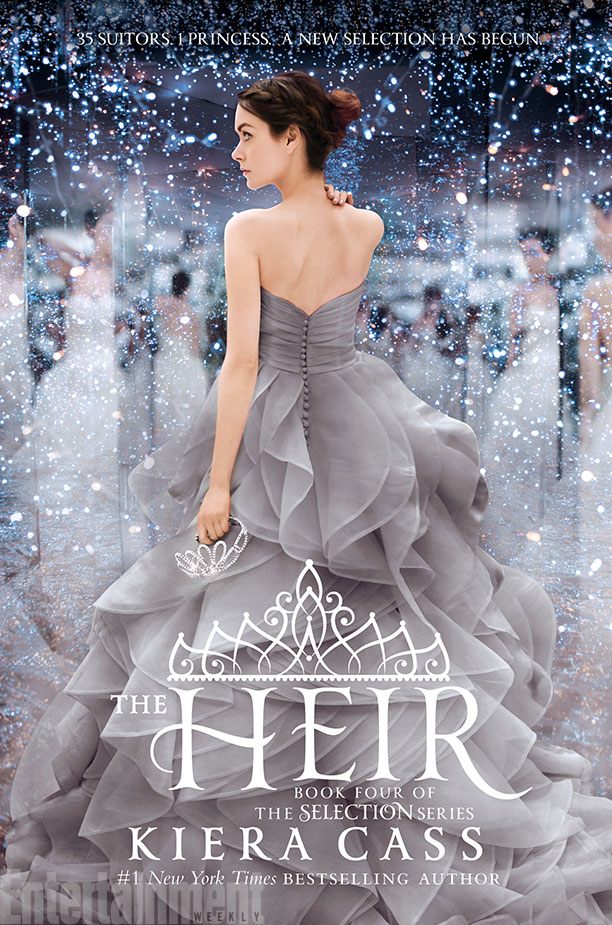 Title: The Heir (The Selection #4)
Author: Kiera Cass
Genre: Young Adult, Dystopian, Romance, Royalty
Release Date: May 5th, 2015
Publisher: HarperTeen
Format: Trade Paperback
Princess Eadlyn has grown up hearing endless stories about how her mother and father met. Twenty years ago, America Singer entered the Selection and won the heart of Prince Maxon—and they lived happily ever after. Eadlyn has always found their fairy-tale story romantic, but she has no interest in trying to repeat it. If it were up to her, she'd put off marriage for as long as possible.
But a princess's life is never entirely her own, and Eadlyn can't escape her very own Selection—no matter how fervently she protests.
Eadlyn doesn't expect her story to end in romance. But as the competition begins, one entry may just capture Eadlyn's heart, showing her all the possibilities that lie in front of her . . . and proving that finding her own happily ever after isn't as impossible as she's always thought.
WARNING: DO NOT READ ANY FURTHER IF YOU HAVEN'T READ THE FIRST THREE BOOKS!
Actually, I have finished this book since last May 10 to 11 overnight. Too bad, during that time, I was too busy so I wasn't able to write a serious review about this book.
My copy was given by my cousin and it was the special edition with Kiera's letter for her Filipino readers and it also comes with The Heir bookmark.
To be honest, I am not a big fan of The Selection series (don't kill me Selectioners). But I don't hate it either. For me it's just right. It was thanks to the 3rd book, The One, for saving me from the complete annoyance throughout the whole series.
The One, is my favorite so far from all 4 released book of the series, but I felt like it was totally rushed. Like c'mon, put some more pages and disclose things properly. And then I found out that there will be another book. And I was like, oh, I now see why. And for some weird reasons, I looked forward to The Heir. Aside from it's beautiful cover (they all have GORGEOUS covers, okay.), I wanted to know how America will play as a queen, how she and Maxon will play as parents, and I admit that I am totally curious how are things on the post-Selection-America-Singer-era.
I am utterly surprised at how much I liked and disliked this book at the same time.
Why I liked it:

The cover. It's nothing new and surprising when it comes to Kiera Cass' book covers. Well, I easily fall in love with pretty covers and I sometimes buy impulsively because of that. But hell, The Heir's cover is another beauty.
One heir and 32 male participants of the Selection. The Heir has brought a whole new story. Mind you, I'm a big reverse-harem fan. lol. So just imagine, 32 swoon-worthy lads and one young lady. That actually sounds so wrong, but oh well…
The Heir is surprisingly enjoyable and entertaining. I found myself turning the pages so fast and devouring the story that I finished it overnight. I am a very slow reader and it's so rare for me to finish a book in one or two sittings. So hands down to this book for making me so hyped while reading it.
Maxon and America. They're what I looked forward the most. To see how America will play as a queen and as a mother, same goes to Maxon as a father. On the three previous books, America was known for her strong and annoying image. I never liked America because she annoys the hell out of me, especially on the 2nd book, The Elite. Looking through Queen Amberly's queenly-image, I never saw America on the same shoes. So I was thinking how one book will ever change my judgment of America. And I was so surprised at how I easily accepted her change. On The Heir, America became so charming. She was loved and adored. Once, I never saw her that queenly, but after reading The Heir, I immediately changed my opinion. As for Maxon, I totally liked how he gave off the fatherly vibes — a total opposite of his father back then. I thought it was totally effective. Good job on revamping Maxon and America, Kiera!
Kile Woodwork. Talk about the typical he's-my-childhood-friend-and-I-won't-fall-for-him scenario. And I love that. Among all the participants, he's my bet and my favorite. He's cool like that. On the other side, I'm also actually rooting for Erik, for some reasons. I find him very charming even if he's not a participant of the Selection. Well, who knows what kind of plot twist Kiera is planning right now.
Why I didn't like it:
Princess Eadlyn is a total b*tch. Jesus, if I was too annoyed back then with America, this was nothing compared to that annoyance. Actually, b*tch is not the right term. She's a total spoiled bratty princess. I kept rolling my eyes every single time she speaks. I think Kiera wanted to give us a really different princess from the usual Disney princess types. And I believed that Eadlyn was supposed to be strong and independent, but it's just sad that it didn't worked that way but rather we received a very spoiled and bratty princess. I liked the whole idea of not-wanting-to-marry-because-I-don't-need-a-man-to-rule-the-kingdom-but-ended-up-falling, but her bratty side was so overpowering. I even asked a friend of mine of what he thought, as a man, about Eadlyn's behavior over the male Selection participants. He said that he's not totally pleased and would not want to deal with a girl like her. lol
I just really hope that Kiera will fix her attitude on the next book.
Final verdict:
Well, see that? I only have one reason not to like this and give it a high rating. And for the record, I totally enjoyed this even if Eadlyn's really… unpleasant. lol.
I still think that this was worth the 4th book and I am now looking forward on the final book of the series. I hope Kiera Cass will give us something that will totally blow our mind. And I hope that she'll improve Eadlyn's character (this is what I'm hoping for the most for a good ending!).