Author: Jojo Moyes
Genre: New Adult, Contemporary
Release Date: January 5th, 2012
Publisher: Michael Joseph (UK)
Format: Mass Market Paperback
Source: Borrowed
Lou Clark knows lots of things. She knows how many footsteps there are between the bus stop and home. She knows she likes working in The Buttered Bun tea shop and she knows she might not love her boyfriend Patrick.

What Lou doesn't know is she's about to lose her job or that knowing what's coming is what keeps her sane.

Will Traynor knows his motorcycle accident took away his desire to live. He knows everything feels very small and rather joyless now and he knows exactly how he's going to put a stop to that.

What Will doesn't know is that Lou is about to burst into his world in a riot of colour. And neither of them knows they're going to change the other for all time.

Before reading this book, do you know what it feels like seeing this on my social media timelines every. single .time? I felt so left out. It felt like I was the only one out there who hasn't read Me Before You. I wasn't really interested until I saw the movie trailer. Okay. Finnick Odair and Daenerys Targaryen, joined by Neville Longbottom in one film…??? Count me in! I ended up telling myself, "I have to read this before the movie comes out."
But oh hey, my cousin spoiled me with the ending. How bloody brilliant is that?! Yes, mate. I. Got. Spoiled. I already know the ending even before I started reading the book. And it frickin' sucks! So before opening the book, I expected a lot less exciting reading experience.
Well to be very honest, I also kind of expected that it will end up to that ending. Especially after many of my friends already warned me for the extreme pain. Those warnings were already like silent spoilers, eh? But to be told about the ending directly in my face?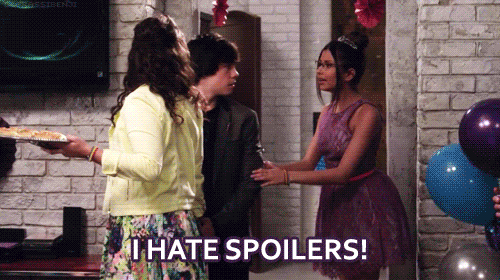 But here's what I gotta tell you after reading Me Before You… To Jojo Moyes' credit, given that I already know the ending, Me Before You still struck my heart — it still affected me in a way I should be affected, so to speak. I thought I was prepared for this kind of feels, but boy was I wrong.
This book is beautiful… and bloody painful.

Me Before You made me feel things… lots of things. Sure, there were times when I got bored with too much side storytelling and random blabbering, but as a whole, you will surely embrace the beauty of the story. Lou Clark was a bright character that lights up this whole sad concept. Her character emanates brightness even though I already know that this is a very very sad story. And knowing that Emilia Clarke will play her in the movie, I got to picture Emilia as Lou while reading Me Before You, and I knew then that Emilia Clarke is the perfect Lou Clark. (Talk about same surname except the spelling. lol)
Will Traynor
was a very vulnerable character. After his accident which resulted to quadriplegia, he lost the will
(no pun intended)
to live. He used to be adventurous, he used to live a fun life, he loves exploring and travelling, but he lost that life after his accident.
He was helpless
so he wanted to finish his life, but his parents wanted for him to think about it more. Will told them to give him six month until his final decision.
That was when Lou came into his life. It was an obvious struggle to get too close to Will at first, but Lou didn't want to give up. She did everything she can to change Will's mind.
This whole process of changing-Will's-mind was too heart-wrenching. I have yet to experience losing someone very very dear to me, but just by thinking about it while reading Me Before You was already too much to handle. I felt Lou's, and Will's family's heartaches, their pain. Just by thinking that a person I love will no longer be there the next day I wake up — to meet me and to talk to me, that I will no longer see them — it's just too painful. And just by writing this review, I'm about to tear up. Again.

I also felt Will's struggle. As an artist, I'm very active in using my hands. Just by thinking that one day, I won't be able to use these hands, it pains me. I know that I don't fully understand the struggle because I'm not on Will's shoes, but if I consider myself with the same circumstances as him, I'll be honest, I might also think of ending it… Because my hands are my life, and losing them or not being able to use them is like losing my life as well. So, I know that it's painful for Will to see himself so helpless after having a very active life before his accident.
Me Before You made me realize how precious are the people around me. It made me think of the people that I'm scared to see leave. People die, I know. And feeling the pain is inevitable when the time comes. It will just be a matter of acceptance. Ugh. Such an emotional review. lol
But seriously, Lou and Will's story is something that I will embrace dearly. Such a wonderful story.