Hey guys! I haven't done Stacking The Shelves since December of last year. And I know, I know! I'm so sorry for the lack of posts since the last quarter of 2016, and for being missing-in -action a lot. It's been tough for me. I've been trying really hard, but it just won't happen. But hey! Now, the blogging gods are finally blessing me with motivations, so yay! I really hope that I can stay active for long this time!
Today, I'm going to share my first quarter of 2017 book haul. And yes, I'm going to ditch the Stacking The Shelves weekly feature by Tynga's Reviews from here on, and just stick with "Book Haul" feature, so that I can freely post in any day of the week.
Also, I don't want this to look like, in any way, a form of bragging of what I'm getting. This is just a way of me sharing "new" titles that can be a way for readers to discover from my stack and add them on their own TBR pile. And also, as a form of thanking people, who are extremely generous to send me copies. I, myself, love seeing book hauls and unboxing photos, and see what other bloggers/bookstagrammers/readers get, so I hope that you discover new titles from my new stack as well!
* JANUARY BOOK HAUL *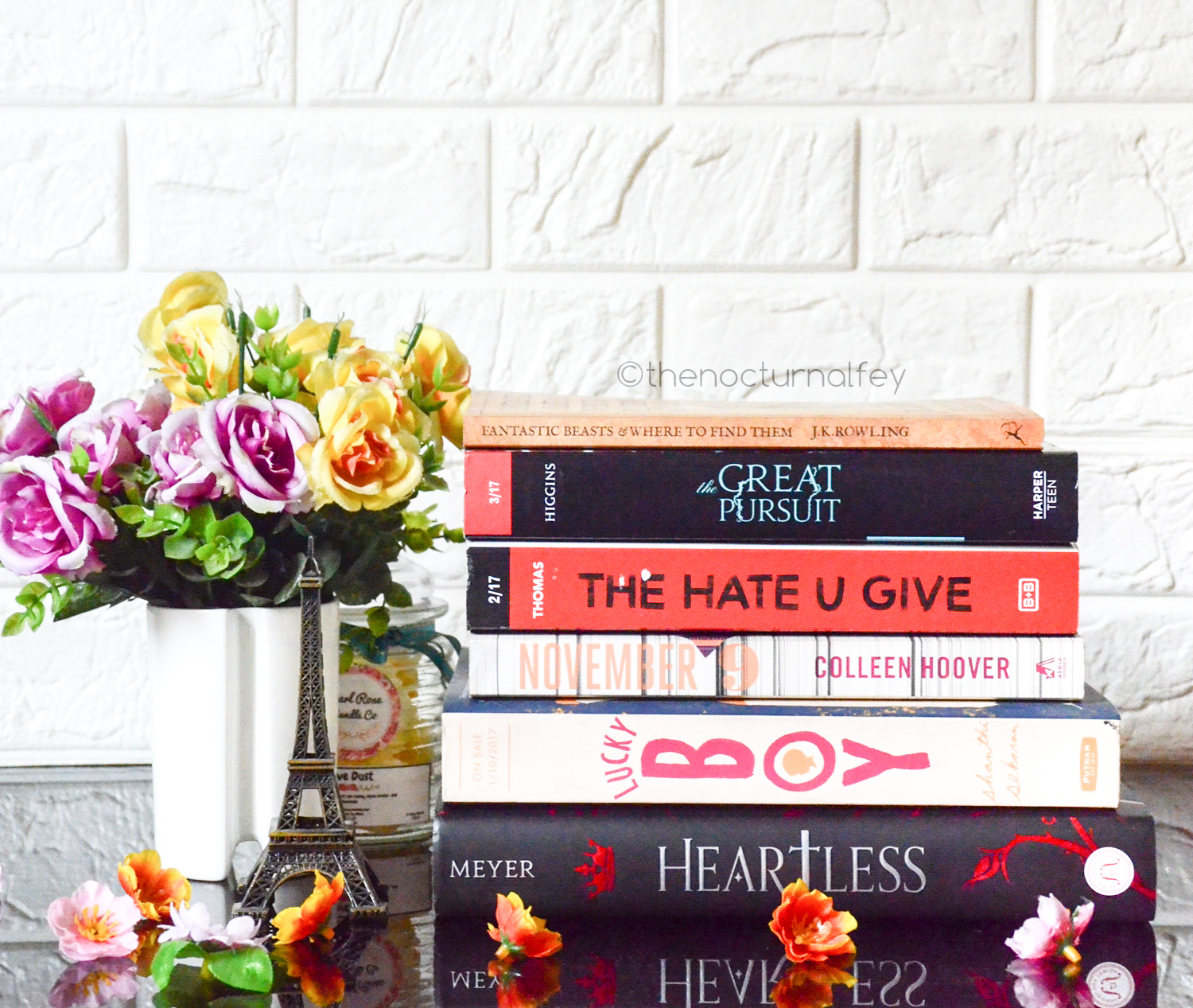 I started setting a fixed monthly book budget this year. Life is hard, and I gotta adult and save. Lol. Got most of these in pre-loved store.
– Purchased –
Heartless by Marissa Meyer
November 9 by Colleen Hoover
Fantastic Beast and Where to Find Them by J.K. Rowling
– Received –
Big thanks to publishers, authors and friends for these titles.
The Hate U Give by Angie Thomas (ARC)
The Great Pursuit by Wendy Higgins (ARC)
Lucky Boy by Shanti Sekaran (ARC)


* FEBRUARY BOOK HAUL *

– Purchased –

Knife Edge by Malorie Blackman
Just Listen by Sarah Dessen
– Received –
Big thanks to publishers, authors and friends for these titles.
Black Moon by L.A. Weatherly
Uniting The Heavens by Emily English
Windfall by Jennifer E. Smith (ARC)
Given to the Sea by Mindy McGinnis (ARC)
Carve The Mark by Veronica Roth (Giveaway prize)
– Borrowed –
I also got to borrow a series from my friend, mommy Sol.
The Bronze Horseman by Paullina Simons
Tatiana and Alexander by Paullina Simons
The Summer Garden by Paullina Simons
* MARCH BOOK HAUL *
– Purchased –
Caraval by Stephanie Garber
Hunted by Meagan Spooner
– Received –
Big thanks to publishers, authors and friends for these titles.
* APRIL BOOK HAUL *
I got a handful last month, only because, my friend decided to dispose some of his books and gave them to. He's awesome like that! Thanks to The Royal Polar Bear!
– Purchased –
The Alchemist of Loom by Elise Kova
– Received –
Big thanks to publishers, authors and friends for these titles.
Gift
99 Days by Katie Cotugno
The Beginning of Everything by Robyn Schneider
Extraordinary Means by Robyn Schneider
The Geography of You and Me by Jennifer E. Smith
This is What Happy Looks Like by Jennifer E. Smith
Welcome to Envy Park by Mina V. Esguerra
The Disreputable History of Frankie Landau-Banks by E. Lockhart
Received
Wicked Like a Fire by Lana Popovic (ARC)
Grit Gillian by French (ARC)
York by Laura Ruby (ARC)
Starswept by Mary Fan (ARC)
* E-GALLEY HAUL *
– ARC/For Review –
Big thanks to publishers, and authors for these titles.

I'm looking forward to reading all these awesome titles.
I hope you found new titles from my pile. What did you get last month? Please comment below the link for your latest book hauls! I love checking out book hauls/Stacking The Shelves!
---
Erika is a freelance content writer and illustrator from the Philippines. She used to hate writing in high school, but later discovered that it is something that she'd enjoy doing. Asides from books. she also enjoys the presence of few art materials, camera for bookstagram, and other bookish merchandise, on her own fantasy realm.